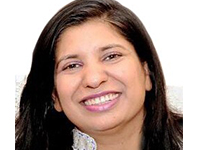 Dr. Reena Goyal is a graduate of New York University College of Dentistry (NYUCD) with a Doctorate of Dental Surgery (DDS) degree. She has been practicing general dentistry for over a ten year period in New Jersey, Pennsylvania & New York. She has completed a certification and hands on training on performing Implants, Invisalign, surgical procedures such as crown lengthening and frenectomy.
Skill and compassion go hand in hand when providing exceptional patient care. As a dental professional, Dr. Goyal stays up to date on the latest advancements in dentistry in order to provide the most current treatment options for her patients. As a doctor, she recognizes that her patients are unique individuals who have placed a great deal of trust in herself and her team. That is just one of the many reasons why she values each and every patient relationship. She believes in educating the patients about their dental procedures and is always committed to providing them with the highest quality dental care. She is a member of the American Dental Association and New Jersey Dental Association.
Dr Goyal specializes in performing endodontic treatments in one sitting. She also has the expertise in treatments such as crowns, bridges, restoring implant crowns, extractions, veneers, scaling, root planing, implant over dentures and many other complicated procedures.
With her pleasant personality coupled with her expertise in dentistry, all her patients are extremely satisfied with Dr. Goyal's professional work.
We appreciate the time you've taken to visit our website and find out more about our dental practice, our dental team, and the many services we can provide to help you achieve optimum oral health.