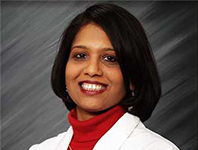 With over 25 years of experience in the Lawrenceville area, Dr. Muthukumaran is an experienced and compassionate dentist who offers comprehensive, high quality gentle dental care in her state-of-the-art practice.
Dr. Mohana Muthukumaran completed her DMD degree at Henry M. Goldman School of Dental Medicine. She has been voted Top Dentist in 2014,2015 and 2016.
Dr. Muthukumaran and her staff are proud of the warm patient-friendly environment they have created and of the lifelong relationships they have built with multi-generational families in the area. Dr. Muthukumaran welcomes patients of all ages and looks forward to meeting you and offering you the professional, caring and pain free oral health care that you deserve.
When not in the office, Dr. Mohana Muthukumaran enjoys exercising, hiking, traveling and reading.